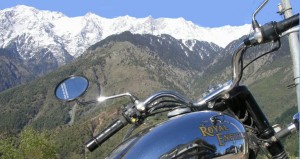 The Himalayas have it all: verdant green hills, immense snow-topped mountain ranges, rivers with frothing white water, steaming jungles and rainforests, heart-stopping mountain roads, timeless cities with vibrant bazaars and ancient palaces, monasteries and remote villages, not to mention Mt. Everest, the world's highest peak. It is a part of the world which has, thankfully, not yet been caught up in the desperate attempt to do everything at break neck speed, and vintage styled motorcycles fit in perfectly with the retro life style still enjoyed beyond the hustle and bustle of urban life.

Motorbike enthusiasts are looking beyond long and speedy stretches of characterless roads, and we are offering to those who seek the next level of adventure, tours along the serpentine and switchback roads of the Himalayas, on the Royal Enfield Bullet motorcycle - Asia's answer to the Harley-Davidson. These vintage machines look seriously wonderful, and riding them gives a sense of real and nostalgic excitement, culminating in the immediately recognisable classic, slow machine-gun volley sound, which turn heads wherever the bikes may go! Aesthetics, comfort and style, combined with the classic looks of the 1950's and before, mean that riding a Royal Enfield Bullet is an experience of pure pleasure– particularly when the journey is through the stunning scenery of the Himalayas, giving the riders an insight into exotic cultures, very different to their own.

We have taken the scenic and cultural highlights of the region and put them together within several motorbike tours. The diverse terrain is particularly suitable to exciting two-wheeled adventures, and the geography and climate make for some of the best motorbiking roads in the world. Gradual development of the region is bringing about an expanding network of roads, but due to lack of funding, many of these roads are still un-metalled, giving further opportunities for off- road adventure, allowing the adrenalin to rush!.

Expedition planning, by its very nature, has to be dynamic, and it needs to be understood that riding conditions are not always easy. At certain times of the year, Monsoon rains and ice-melt may cover stretches of hill and mountain roads: a stark contrast with desert conditions in other parts, where sandy surfaces have to be negotiated. In the mountains, the distance travelled each day is governed largely by the altitude of the passes we have to cross, whereas on the plains, it depends on the distance between main centres. Although there are many kilometres of open road, we should still emphasise that these motorbike tours are directed towards experienced riders.