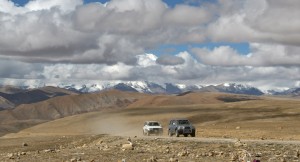 Although the majority of people who visit the Himalayas make trekking, or climbing, the focus of their adventure holiday, overland tours in Nepal and Tibet are equally dramatic and easily accessible. They offer a unique experience as roads twist and wind their way up and down hills and valleys, and to travel by vehicle can be just as exciting as trekking along some of the vertigo-inducing high paths of the mountain ranges. There are only five metalled highways in Nepal, one of which runs up into Tibet, and these intertwine with each other quite confusingly. Imagining their construction through such unforgiving terrain, with tools and equipment a million miles away from what we are used to in the West, is definitely food for thought as your vehicle eats up the kilometres along the way. A relatively wide range of transport opportunities means that, even if you find walking difficult for whatever reason, you do not need to forgo seeing the magnificent Himalayas face to face. In many beautiful locations within the Kathmandu Valley, for instance, such as Nagarkot, Dhulikel or Daman, side roads will take you up to small resorts perched on the valley rim, from which you may see fabulous sunset and sunrise views, often with panoramic vistas which encompass many of the mountain names which make your heart race Annapurna, Everest, Ganesh, Daulaghiri, Gauri Shankar, Lhotse..
From Pokhara you may be driven up to Dhampus, a village at the end of one of the most popular trekking routes, from where there are fabulous views over the Pokhara Valley; or to Sarangkot, a hilltop with the ruins of an ancient fort, for a similar experience. The small hotels and lodges at these hilltop resorts are very well placed and comfortable, and it is also possible to opt for just a night, or maybe two, under canvas, in order to enjoy a taste of real wilderness experience. In the latter case, you would have a cook to prepare delicious food, and staff to erect your tent and to guide you to a carefully laid table for your meals, with folding chairs for your comfort. There is nothing like sitting at breakfas,t just after dawn, and enjoying the life-giving warm sun as it rises behind majestic icy peaks, which surround your camp, and which appear to be bathed in liquid gold. The choice of transport we offer for our overland tours depends on where you are going, how much time you have at your disposal, and whether you wish to travel in a small party or are happy to be among other travellers. Dedicated tourist buses are quite comfortable, well-maintained and efficient, with very reliable drivers. The same may of course be said of 4 x 4 all-terrain carriers, which are ideal if you are planning to leave the metalled highways for any extended period of time. Private cars may also be hired for your journeys and the drivers of these are entirely at your disposal, being happy to stop at any convenient place or time for photography, leg-stretching or for any other reason. Whatever form of transport is used, the scenery along the routes is stupendous, offering distant vistas of snowy Himalayan peaks and near views of rushing, white, bubbling rivers, often running close beside, and deep below, the highways. Travelling through changing landscape with a wide variety of field plants such as maize, rice, millet, soya beans, and pumpkins, with groves of oranges, lemons, mangoes and bananas bordering the road, is a great delight. The different seasonal colours, hardly any of which can quite outshine that very special verdant green of the young rice paddies. are a joy, as are the bright clothes worn by the many women who are at work in the fields, weeding and transplanting. Sun and rain are held at bay by enormous, crow-like black umbrellas stuck into the soil, or by wearing huge bonnets woven of bamboo, or striking, circular straw hats. The sharp greens, cerulean blues, hot reds and sunny yellows of the women's simple lungis and blouses look like so many tropical flowers blooming in the fields. The dusty villages along the way, with their doors open onto the road, giving tantalizing glimpses of homely interiors, and the ribbons of small shops with their wares strung and hung about, make any road journey more than worth any temporary discomfort. Teahouses and restaurants are spaced conveniently along the highways, and refreshing mineral water, delicious meals of dal bhat or western-influenced fare, not to mention bags of fruit purchased from wayside carts, mean that you will not go hungry en route, and that you will have plenty of opportunities to get out and stretch your legs, no matter what kind of transport you may have chosen. All in all, you have a unique opportunity to observe the Nepalese people going about their daily lives in a totally different, yet similarly meaningful way to that which you might see on a trek through rural villages and landscape. Sometimes we may suggest a domestic flight to save time during an overland tour holiday, especially if you wish to combine destinations which have difficult road linkage. Chartering a small plane is also possible if necessary, and it must never be forgotten that one of the most memorable experiences is an optional early morning mountain flight out of Kathmandu, during which your little plane takes you close to Mount Everest itself, allowing you to see it standing among numberless other gigantic, un-named peaks within the glorious range of mountains known as the Nepal Himalaya.
Because there are so many dramatic rivers in Nepal, bringing water from the high Himalayas, opportunities for white water rafting abound. This can be anything from Grade 4 heart-stopping, near capsizing experiences to millpond flat stretches of limpid river where the raft floats gently along. A few days rafting can easily be incorporated into an overland holiday, because the set in and take out points are often conveniently accessible along the main highways. There is an especially suitable and relatively gentle rafting route which takes you part way from Pokhara to Chitwan, and which offers a very different viewpoint of Nepal's staggering scenery, looking up at high cliffs between which the water has worn its path over the millennia, observing the unique flora and fauna which inhabit the riversides, and seeing the waterside habitations along the way which are inaccessible from any road. This particular short rafting experience includes a night spent in a tent on a sandy beach by the side of the river, thereby adding yet another dimension to an overland, non-trekking based holiday.
If you do not wish to venture far out of Kathmandu, there are so many World Heritage Sites within the confines of the Kathmandu Valley itself, that it is possible to spend a holiday visiting these important cultural sites at leisure, rather than having to make do with cursory, whistle-stop tours, which is often the case when trying to fit in cultural visits before or after a trek. There are in fact three medieval cities in the Valley - Bhaktapur, Patan and Kathmandu, and exploration of these could, in itself, form the basis of a wonderful, cultural holiday. Both Bhaktapur and Patan are under an hour's drive from Kathmandu, so accommodation could either continue to be in Kathmandu, or could be diverted away for a few nights.
In addition to opting for a vehicular tour as the core of your Nepalese holiday, it would be possible to include a very short, low level, easy trek, lasting for about 3 or 4 days, just to get the feel of what trekking is all about. There are several possible treks of this nature close to Pokhara, which could be added to your main holiday in the form of an extension. In the normal course of events in any overland holiday, our main accommodation is at one of a range of carefully selected hotels, which we at Access-Himalaya have known and used for many years, and where the staff take great care of, and interest in, all our clients.
In Kathmandu, and in Pokhara, our usual accommodation is, according to our company policy, in hotels run and owned by Nepalese people. Food there is of high quality and cooked with careful observance of the rules of kitchen hygiene.
The resorts we use in Chitwan, for holidays which include jungle safaris on elephant back or by jeep, are again family-run, and are very quiet indeed, being situated a good distance from the dusty main road which runs through the Terai, . Accommodation is imaginatively planned and the staff are extremely helpful and knowledgeable regarding the National Park area. Bird watching, in and around the spacious grounds of the resorts, is popular, and expert resident ornithologists will gladly accompany you on any walk, if wished.
Finally we must mention the really stunning, Nepali-managed hotel which we usually use in Lhasa, which is a visual delight, with traditional carvings and Tibetan ambiance, and which is set right in the middle of the old part of the city, away from the modern, Chinese-influenced and -dominated area. Choosing one of Access-Himalaya Overland Tours will give you a chance to experience a way of life arguably much closer to that of the majority of Nepalis than that observed whilst trekking. Your chance to indulge in the varied and inviting cultures of the people of the Himalayas is here at hand, and we will be delighted to tailor any special kind of tour for you if one of those on offer does not include what you are looking for.....