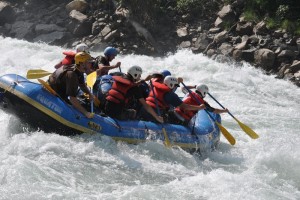 Rafting has an almost universal image of hurtling through awesome rapids and monumental waves and, naturally, there is much of this kind of rafting in Nepal - but, it is also an unmatchable place for recreational rafting, a wonderful way of relaxing after trekking. Only in Nepal will you find such a wide-ranging choice of rafting experiences, far from the madding crowd, in majestic mountain surroundings, with a sub-tropical climate, incredible geography and, of course, some of the World's finest rivers. A rafting trip is certain to be a highlight of your stay in Nepal, whether you choose the thrill of running white water rapids or prefer to float lazily along admiring the scenery on 'flat water' sections of the rivers. Rafting in Nepal is usually a 'wilderness' experience in that rivers rarely have highways close to their banks - but it's usually a fairly gentle wilderness with white beaches for camping, clean rivers and welcoming Nepalese people.

Rivers of Nepal

Nepalese rivers can be grouped into three categories on the basis of their origin: (1) antecedent to Himalaya (2) after the Mahabharat (3) after the Churia range. Antecedent rivers belong to the period prior to the rise of the Himalaya. These rivers added their tributaries during or after the Himalayan origin along with the development of the monsoon climate. After the formation of the Mahabharat hills, the antecedent rivers changed their courses either to the east or west. Most of these rivers were responsible for depositing the sediments in the Churia basin. The major river systems namely the Koshi, the Karnali and the Gandaki belong to the antecedent group. Rivers originating from the Mahabharat range and cutting through the Churia hills come within the second group, and these include the Kankai, Bagamati, Kamala etc. The third group of rivers originate form the southern face of the Churia hills. For the purpose of commercial rafting, the following rivers are in use.

1. Saptakoshi River System (East Nepal)

2. Narayani or Saptagandaki River System (Central Nepal)

3. Karnali River System (West Nepal)

The climate in Nepal is regulated by the monsoon rains which arrive in June and normally continue until late September. The torrential rains of this season flood the rivers and rafting is not a recommended pursuit. However, the immediate post-monsoon period, throughout the months of October and November, is the peak season for rafting and other kinds of tourism. Rivers are quite high, but diminishing, skies are clear with stunning mountain views, everywhere is fresh and green, and temperatures are warm. From late December to early February the temperatures are very low, and the hours of daylight are fewer, so rafting is not popular at this time. But, the rivers will be clear and low volume, and the skies still almost cloudless, which encourages some people to book trips over the Christmas and New Year period when they have a wonderful time - but you should definitely expect cold water. By mid-February, river and air temperatures are warming up again, making this time another good choice for river running, when river levels may be expected to be low, and the water warm and clear. The drawback at this time may be cloudy and hazy skies, with no certainty of magnificent mountain views, and occasional showers of rain are also possible. By May, snow-melt and pre-monsoon storms cause a significant rise in river levels, and this heralds the end of the rafting season. Pokhara, on account of its altitude of 800 metres, gives a good indication of average temperatures to be expected by most river runners:

Deg.Cent. Sep Oct Nov Dec Jan Feb Mar Apr May Jun Jul Aug

Minimum: 19 17 12 07 05 08 11 15 18 20 21 21

Maximum: 27 26 23 20 19 21 25 30 30 29 29 29

International River Classification:
Important notice
One of the problems of international classification is that the majority of white water is class 3 and 4, and in fact there is a vast difference between an easy grade IV and a hard one. Therefore we try to indicate the difference through the use of + and – signs, i.e. Classes I, II, III, III+, IV-. IV, IV+, V-, V and VI. , e.g. River graded as Class IV- means that although there may be long sections of lower difficulty, to raft safely it is necessary to be capable of handling Class IV proper.

A Day on the River

We normally rise at dawn, and wander to the campfire for hot drinks (no camping luxuries like bed tea and warm, washing water !!). After a hearty breakfast and loading the rafts, we start rafting. We usually go with the sun, and try to get on the water by around 9am. On the river you'll paddle hard through the rapids and cruise in between. On any of the larger volume rivers you could safely say about 30 percent of the time is spent running rapids and 70 percent cruising.

The day's rafting is punctuated with a simple lunch break around midday, as well as stops to scout the more challenging rapids, explore temples and villages, waterfalls and other interesting sights. The length of time spent rafting is directly related to our choice of spectacular campsites. Typically we are on the water 4-6 hours each day.

We usually get into camp around 3-4 in the afternoon and there is plenty of time to explore and relax. On longer trips there is always a relaxation day built into the itinerary, a chance to do as little or as much as you wish.

Evenings are spent around the campfire, after helping to unload the rafts and put up the tents if you wish. A modest, three-course dinner (do not expect the complexity and variety of camping trek cuisine) is prepared by the rafting crew, and drinks may be enjoyed (pre-arranged in Kathmandu or Pokhara and transported in our bus).

Of course, we take safety very seriously. It is the first and never forgotten priority of all adventure activities, including rafting, and we are supported by rafting guides and support staff who are trained in emergency wilderness first aid and swift-water rescue. Safety kayakers accompany each expedition and can get a person out of trouble faster than anyone else.