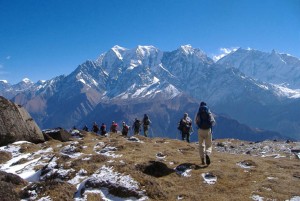 The word 'trek' is Afrikaans in origin - South African Dutch pioneers used it to describe a long journey by ox wagon in search of a new home. But words change as they travel, and in Nepal, trekking is a journey taken on foot for seeing natural and cultural scenes in areas where modern transport is not normally available. Trekking is walking! - not just strolling, but hiking up and down hills. Vitally, it should always be done at your own pace; it should never be a constant, forced march. The best moments, for most, are the time taken to stop and talk to the friendly Nepalese people along the way; to enjoy tea, coffee or cold drinks at trail-side tea-shops; to pause at shady chautaara (resting places); to admire the trees and flowers, the sky and the stunning views. Seldom do we delight in the pure present, but these sudden moments seem to come increasingly easily on the trail, as mind and body synchronize. And there can be few better places on earth for these experiences than the remarkable little country of Nepal.


Camping Trek
This is a tent-based trek, in the classic, original style of trekking in the Nepal Himalaya, which is still the only option in remote areas. When in camp, you sleep in a spacious tent where you have the freedom to lie down whenever you wish, and to enjoy quiet nights and privacy away from potentially noisy lodges. You could choose to go to your tent immediately after dinner, to read or sleep, or stay in the convivial mess tent and play games with friends and staff, read books, write journals, or just discuss the following day's outline with your guide.

We provide food and camping equipment (sleeping tent, toilet tent, toilet seat, shower tent [at certain treks on request], mess tent, table, folding chairs, kitchen tent and kitchen gear) for the trek, as well as an experienced guide with wide local knowledge who will answer and sort out any queries you may have, in addition to arranging suitable camping places. We also provide porters to carry your gear, a cook with kitchen staff, and sherpas (assistant guides) to set up camp, cook and serve food, and, importantly, to help and care for you during the walk, or at any time.

You merely carry a small back pack during the trekking day, with water bottle, camera, binoculars, rain gear (and chocolate bars if you need them). All in all a camping trek offers a very comfortable and self-contained adventure holiday.

Lodge (Teahouse)Trek
A lodge trek is an inn-based trek, where you will have the opportunity to meet other trekkers from all over the world. We book into local lodges, which serve menu-based food provided by them, as we go. We organize such treks, as an alternative to camping treks, mainly in the Annapurnas, Everest and Langtang, the classic trekking regions in Nepal. We provide guides to organize the trekking and to arrange lodge accommodation, as well as to help answer any questions regarding cultural and natural history, and a sufficient number of porters to carry your gear. Most teahouses feature separate guest accommodation, although very occasionally dormitory accommodation may need to be used at high altitudes where there is high demand for limited accommodation. Meals are prepared by the lodge owners or local cooks. Soft drinks, beer, etc. (bar bill) are to be paid for separately by clients.