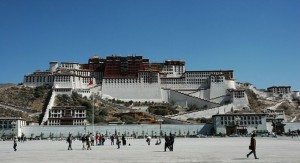 Variously described as the Roof of the World, the Land of Snows and Shangri-la, the ancient and fascinating Buddhist kingdom of Tibet remained, for centuries, locked away in its mountain fastness. Such inaccessibility captured man's imagination to a degree unmatched by other remote places on this earth. Only as late as the mid-1980s did Tibet open its doors to Westerners eager to visit the Forbidden City of Lhasa and the supremely sacred Mount Kailash.

A visit to Tibet is awe-inspiring and unforgettable, yet at the same time a sobering and thought-provoking experience; a unique adventure which begins in Kathmandu, historically the centre of the old-established trade route connecting India and Tibet, and still the natural gateway to that land of mystery.

You may fulfil your desire for a taste of Tibet and Lhasa by taking a tour with us, which includes an unforgettable flight, close to Mount Everest and other gigantic snow peaks, and rugged travel in a land cruiser on the scenic highway which retraces the old trans-Himalayan caravan trail and which has been described as one of the most spectacular road journeys in the world. This journey through the remote vastness of the Tibet plateau, an area as large as Italy and France combined, leads on to the old and fabled, erstwhile forbidden city of Lhasa, where you may visit the all-dominating Potala Palace, ancient seat of Tibetan government and the location of tombs of previous Dalai Lamas. The spiritual heart of the city is the wonderful Jokhang Temple which houses much rich statuary and a kaleidoscope of coloured, silken hangings, amongst which you may be privileged to enjoy the chanting of the Buddhist monks, and experience the timeless and peaceful sense of faith which pervades this holy place.

If your wish is to visit the holy Mount Kailash, a supported trek to that remote mountain and to Lake Manasarovar, source of three of Asia's major rivers, is a feasible, yet demanding option, fully supported with trekking crew and camping equipment.