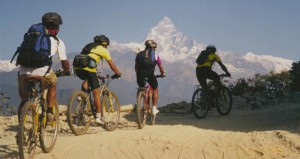 Nepals diverse terrain is a mountain bikers dream adventure come true. Mountain biking offers an environmentally sound way of exploring this magnificent country, its landscape and living heritage: because this is a spartan, laborious mode of travel, it is considered the ideal to travel by the so-called purists. There are plenty of dirt roads and trails in Nepal to meet every mountain bikers wildest fantasy. Mountain biking is specially recommended if you wish to explore the urban centres of Nepal such as Pokhara and Kathmandu as well as countryside on the outskirts. Just imagine taking a ride through lush green rice fields and hamlets, up and down hillsides, along river banks, around temples, past street-roaming cattle, along suspension bridges and highways, through snow, Monsoon downpour, wonderful light effects, or fierce headwinds, depending on place and season. Adventurous bikers may plan extended trips to such exotic places as Tibet, Namche Bazaar, and western Nepal. You could even cycle the entire length of Nepal across the plains. What you can or cannot do on a mountain bike is limited only by your imagination!

All-terrain mountain bikes are recommended if you wish to go up the hills, to mountain lookouts or hilltop shrines. If you plan to explore within the city perimeter itself, observing the hustle and bustle, going shopping, etc, one speed Indian bicycles will do nicely. Mountain bikes are available for rent by the day or longer in many of the bicycle rental outlets in and around the city. If you wish to be enlightened about the culture, the rhythm of village life, and interesting spots to visit, perhaps guided trips should be undertaken.

It was in the mid-1980's that biking activity really took off in Kathmandu. Enthusiasts flew with their bikes from Hong Kong to Tibet to answer the call of the wild steppes. The two-week journey from there over the high passes to Nepal is what sparked it all off. Even today Kathmandu is a mecca for mountain bicyclists, as, every year, it draws many enthusiasts from all corners of the world.

In conjunction with one of Nepal's best-known and certainly most experienced mountain bike companies, which uses top-quality foreign-made mountain bikes, we are able to arrange biking tours to satisfy virtually any biker's dream.