Chitwan National Park and Elephant Safari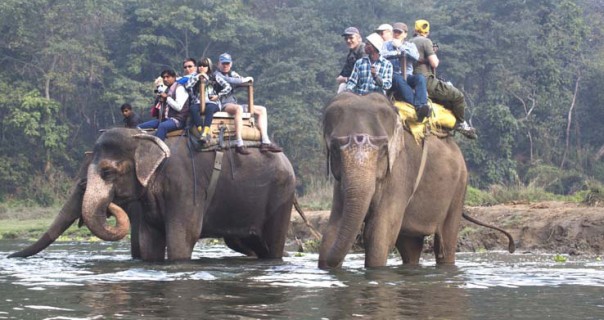 The Terai ('moist land') is the most southerly part of Nepal, and the Royal Chitwan National Park (300m) was Nepal's first conservation project, begun there in 1973, and more recently awarded the status of World Heritage Site. Even during a short holiday, one might expect to see many of the 56 species of mammals offered protection in this particular Terai reserve of Chitwan ('heart of the jungle'), as well as some of the estimated 470 other kinds of mammal, 126 species of fish, 150 sorts of butterfly and 47 kinds of reptile.

The best times to visit the Park are from January to May, and from late September to December. The month of June can be uncomfortably hot, while the Monsoon rains are present in July, August and early September, causing rivers to swell and making parts of the park inaccessible. Safaris into the jungle are mainly by elephant, four wheel drive, dugout canoe and foot, and are accompanied by an experienced and knowledgeable local naturalist guide.

We use Nepalese-owned resorts in Sauraha, Chitwan. The accommodation is just inside the Chitwan buffer zone, and each day spent there revolves around visits of one kind or another into the park, organized by the resorts, which are themselves situated near the banks of the Budhi Rapti river in an isolated northern area of the National Park, next to the deep Baghmara forest. The resorts have modern amenities, with all rooms boasting air conditioning, attached bath and 24-hour hot and cold water. Some resorts have small, outdoor swimming pools, which are a most refreshing facility after a hot jungle safari - especially when cold beers, soft drinks and other refreshments, may be ordered from the resort bar, to be brought out to the poolside!

The full-board accommodation at the resorts is simple yet comfortable, and the food is well cooked, and plentiful, comprising Nepalese, Indian, Continental and Chinese cuisine. The staff are courteous and friendly - mostly local people - and the fact that the resorts are Nepalese-owned ensures that profits remain in Nepal (unlike the situation in some other, much grander resorts, which are foreign-owned) and mostly in the Terai. The grounds are spacious and relaxing, and the views from all sides are unhindered - just flat fields, water buffaloes, trees and a few well-spaced thatched houses. The numerous exotic shrubs and trees in the grounds attract many species of birds, and the birdsong there is almost totally unlike that which we enjoy hearing in Europe. The resort's natural history experts are experienced and knowledgeable ornithologists, and they will take you on an early morning bird-watching walk, if you wish. Some resorts have their own elephants, which need to be taken to the river to bathe and be scrubbed, daily, and visitors often like to go into the river with them, to help the mahout with the ablutions - usually a two-way affair involving much super-soaking! We can wholeheartedly recommend thiese activities, as they are not in any way artificial 'entertainment', but a daily necessity which happens whether or not visitors are present.

The resort elephants are part of a group in the locality which take visitors on short safaris into the jungle, in the hope of seeing the rare Bengal Tiger, and the less rare (purely in Chitwan terms) one-horned rhinoceros. Both animals are on the endangered species list, but they are being protected within the park. It is quite likely that rhinos will be observed during your jungle safari, also various deer and probably wild boar - tigers only if you are extremely lucky.

Also on the list of activities provided is a leisurely bullock-cart excursion to the local village, where there is a small Tharu museum, and where the inhabitants sell some of their handicrafts in order to boost their income. The chance to be poled along and over the river, in a dugout canoe, in order to visit the Elephant Breeding centre is also included, and this is an excellent opportunity to watch out, whilst on the river, for the two local species of crocodile, the rarer bulbous-nosed, fish-eating Gharial, and the more common, 'smiling' Mugger, which spend much time sunning themselves on sandbanks.

The Elephant Breeding centre is the only one of its kind in Nepal, where much excellent conservation work is carried out - there is a room devoted to very interesting information and it is almost always possible to see young elephant calves with their mothers, with some of the very small ones being allowed out of their enclosures to enjoy mixing with visitors, in the hope that someone will have purchased a bag of special elephant biscuits or a few bananas!

There is so much to do and enjoy at the resorts, that there never seems to be enough time to just 'stand and stare' - however, if you like to take your breakfast or lunch on the wooden balcony, or at the garden tables, you can at least 'sit and stare', at the surrounding fields, local people going about their daily lives, exotic garden plants and fascinating butterflies and birds. Chitwan resort visits are a welcome refreshment, expecially after a demanding trek in the mountains, but also because the surroundings are so exotic, so secluded and so different! It is good to be reminded that Nepal is not just the Himalayan peaks, wonderful and magnificent as they undoubtedly are!

The best time to visit the park is from October to April, and we don't recommend visiting Chitwan between June and September, the rainy season.
Itinerary at a glance
Day 01 - Drive to Chitwan
Day 02 - Jungle activities
Day 03 – Late morning drive back to Kathmandu
Registered users can access the Detail Itinerary. Login/Register to access the Detail Itinerary.
Login
Date & Price
All ACCESS-HIMALAYA adventure travel trips are small group departures and therefore places can fill quickly. To avoid disappointment, we suggest you book your trip as soon as possible.
| Reference | Price pp | Trip Info |
| --- | --- | --- |
| CEF103 | GB£&nbsp160 | OA |
| CEF104 | GB£&nbsp202 | OA |
Price Includes
... in Chitwan
All meals (breakfast, lunch and dinner)
Twin room with a/c and ceiling fan
Elephant-back safari and possibility of elephant wash as well
A short walk inside national park with a jungle guide
Visit to elephant breeding centre, and brief bird watching
Dugout canoe excursion with probable observation of Marsh Mugger & Gharial crocodiles
Brief visit to typical local Tharu village, and evening cultural programme presenting local tribal dances
After your exciting daytime activities, you may enjoy starting your evening by taking a dip in the outdoor swimming pool or relaxing on the banks of the Budi Rapti River viewing the sunset and bird watching
Trip Info (Tour/Trek Styles) Explained
PG

Private Group:

This style of trip is organized for specific groups of people (families, friends,school and college students, colleagues, business associates etc.), and is closed to outsiders. If you are interested in this particular trip departure date then please get in touch with us.

OA

Open to All:

This trip departure is open to all. However, if you are interested in this particular trip departure date but want your own private group, then please get in touch with us.

LT

Lodge Based Trip/Trek:

This trip/trek is lodge (teahouse) based. All accommodation, including food, is provided in local lodges. Occasionally however, where a large group is concerned we may choose to send our own cook along, as well, to take care of your food hygiene and to cook some special additional items.We provide all necessary documentation, including permits, and arrange all internal transport. We provide trekking guide, assistant guide(s) and porters/animals for transport of your gear. You merely carry a daysack with essentials, including water.

CT

Camping Based Trip/Trek:

This trip/trek is camping (tent) based. We will provide one 3-man tent for every two people, also single tents, where requested, on payment of supplementary costs. All food and drinks are provided by our experienced cook and his kitchen team. We provide all necessary documentation, including permits, and arrange all internal transport. We provide trekking guide, assistant guide(s), cook, kitchen crew, food and drink, and porters/animals for transport of your gear. You merely carry a daysack with essentials, including water.

GAP

Guide, Accommodation & Porter only:

In this trip neither food nor transportation is included. Clients are responsible for food and local transportation, and our responsibility is to provide insured guide, insured porter, and all necessary permits. All additional costs are the responsibility of the clients, including charges incurred as a result of delays or cancellation of services beyond our control. Clients pay for their own accommodation. Any additional costs are the responsibility of the clients, We can arrange hotels and international airport transfer, on request.

SG

Self Guided/Budget Trip:

This trip is specially designed for low-budget travellers who prefer fairly basic facilities with reduced services. It is a pre-requisite that a porter is hired for any self-guided trip, which is an ideal set-up for those who enjoy independent travel with minimum cost. We have added support to minimise the hard work of planning and costing, and we will be available to help in the unlikely event of an emergency. We will arrange all documentation (including permits), before you arrive in Nepal, so that you are free to get on with your adventure, relying only on your porter to help you on your way. All additional costs are the responsibility of the clients, including charges incurred as a result of delays or cancellation of services beyond our control. Hotel accommodation, local transportation and international airport transfers may be arranged, on request.
Travelled with us before?
We would love you to share your images with us and our visitors
Upload your Images
We have a wide selection of photographs taken by clients and ourselves whilst on our tours. All images have been carefully selected to accurately portray this trip and uploaded for you to enjoy. All photographs copyright to the photographer.
Please click on the thumbnail to see the larger version of the photo.
If our fixed departure dates are not convenient for you or your group, we can also arrange private departures on all of our small group tours. Private group departures will follow the same itineraries as our usual small group tours, or itineraries may be tailormade to suit your own convenient tour date/budgets.
Itineraries may be tailor-made to suit your dates. So if you can't find a date to suit you or if you want to have your very own tour just with your friends or family then we can help you.
Customised Private Groups:
For most of our usual tours, or itineraries, where there is a group numbering 2 or more, we can customise and organise private group trip(s) where we design the itinerary and activities exclusively for you, according to your requirements and budgets, such as Honeymoon, Anniversary, Family, Scouts, School, College, Fundraising or Charity trips. Find out more about our private group tours.
To enquire about booking a private departure of this tour or about organising your own private group tour, please fill in the form below and we will get back to you shortly with details.