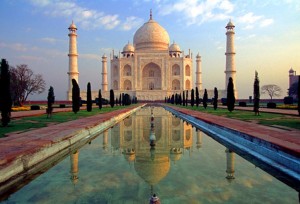 India is the seventh-largest country by area, the second-most populous country with over 1.2 billion people, and the most populous democracy in the world. Bounded by the Indian Ocean on the south, the Arabian Sea on the south-west, and the Bay of Bengal on the south-east, it shares land borders with Pakistan to the west; China, Nepal, and Bhutan to the north-east; and Burma (Myanmar) and Bangladesh to the east. In the Indian Ocean, India is in the vicinity of Sri Lanka and the Maldives; in addition, India's Andaman and Nicobar Islands share a maritime border with Thailand and Indonesia.

Home to the ancient Indus Valley Civilisation and a region of historic trade routes and vast empires, the Indian subcontinent was identified with its commercial and cultural wealth for much of its long history. Four world religions—Hinduism, Buddhism, Jainism, and Sikhism—originated here, whereas Zoroastrianism, Christianity, and Islam arrived in the 1st millennium CE and also helped shape the region's diverse culture. Gradually annexed by and brought under the administration of the British East India Company from the early 18th century and administered directly by the United Kingdom from the mid-19th century, India became an independent nation in 1947 after a struggle for independence that was marked by non-violent resistance led by Mahatma Gandhi.

The Indian Himalaya is, like its Nepali counterpart, a landlocked mountain range – in this case spanning ten northern states of India, namely Jammu & Kashmir, Himachal Pradesh, Uttarakhand, Sikkim, Arunachal Pradesh, Meghalaya, Nagaland, Manipur, Mizoram and Tripura in addition to the hill districts of two states - Assam and West Bengal (Darjeeling). The region is responsible for providing water to a large part of the Indian subcontinent and contains varied flora and fauna. Three major geographical entities, the Himadri (greater Himalaya), Himanchal (lesser Himalaya) and the Siwaliks (outer Himalaya) extending almost uninterrupted throughout its length, are separated by major geological fault lines. The Karakoram ranges are the northwest extension of the Himalayas. To the south of the Karakoram range lie the Zangskar ranges, and parallel to them lie the Pir Panjal ranges. These three mountain ranges lie parallel to each other in the north-western part of India, most of their area lying in the state of Jammu and Kashmir.